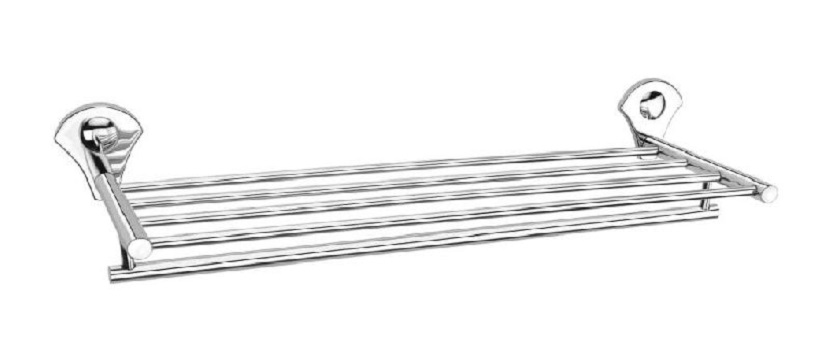 Towel racks like Royal Towel Rack in Rajkot allow a bathroom design to hold multiple towels at once in one dedicated area. This immediately adds various advantages to a bathroom design. They can significantly improve accessibility, comfort, and overall design quality. To start with, towel racks are excellent washroom accessories for any bathroom that has a shower or bathtub.
This is constant regardless of the number of individuals who utilise it. Towel racks may carry numerous towels at the same time. It is really important to have a dry towel available at all times. Dry towels are advantageous to your wellness. The overall health of the bathroom in terms of cleanliness and bacterial transmission is also crucial.
Self-Adhesive - Because installing towel racks with hardware can be difficult, particularly if you have no expertise, self-adhesive towel racks are the ideal answer. They are simple to install and equally dependable.
Hooks - In addition to bars, some towel racks might include small hooks to hold additional towels. These hooks can also be used to hang caddies, hangers, and other similar objects in your bathroom.
Extendable Towel Racks - Extendable towel racks are great for saving space in compact spaces. These towel racks may include accordion-style extensions or the capacity to fold into a wall.
Towel rails come in two varieties: freestanding and wall-mounted. While wall-mounted towel rails have been the most popular option to this point, freestanding towel rails are quickly gaining traction.
Towel rails are becoming increasingly popular due to their numerous advantages. They not only provide more storage space, but they are also portable, simple to install, and an appealing feature in their own right.
Space-saving features - Towel rails are an excellent method to save space in any washroom. They're especially useful in small bathrooms since they preserve valuable wall space. Alternatively, homeowners could utilize this space to add storeroom cabinetry or shelving.
Single-sheet, disposable paper towels can quickly fill up your restroom trash cans. When the bins are filled, customers may continue to toss towels on top since they don't know what else to do. This can lead to a sloppy situation near the bin and on the floor. This is not only inconvenient for your janitorial personnel; it is also uncomfortable for employees and guests.
Easy to install -

Towel rails, as the name says, stand on their own on the floor and do not require any attaching or mounting on the wall.
Instead of drilling holes into your nicely tiled walls, attaching screws, and mounting the rail, simply position the freestanding model in its proper place.
Portability - Because freestanding towel racks have no attachments, they can be readily relocated from one location to another. If you are renting your house, you may simply pack your towel rack and take it with you whenever you move.
Towel rails also allow you to move the rail to the location where it is most needed. For example, if you're taking a shower, you may position the towel rail directly next to the shower door, eliminating the need to step out of the shower and reach for a towel hanging on the wall when you're finished.
If you have a freestanding bath, you will need a freestanding towel. Such a bath is frequently placed in a central location away from the room's walls, making access to a wall-mounted towel rack difficult.
Added capacity - When opposed to wall-mounted towel rails, freestanding towel rails offer a larger capacity. The towel rail, for example, has two rails that are longer than the standard towel rail, allowing you to hang more towels on it.
Some types include both rails and shelves for storing various bathing necessities such as folded towels, sponges, toiletries, or candles.
Hygienic - Electric hand dryers were intended to reduce the usage of paper towels, however, individuals frequently leave the restroom with their hands still damp. Bacteria are still present in this dampness. You may make your hands fully dry and bacteria-free by wiping them on a continuous cloth towel. Furthermore, unlike disposable towels, germs are confined within the cabinet rather than in trash cans or on the floor.
If you are redesigning your bathroom, you may be asking how to choose a towel rack. After all, properly storing and drying your towels will extend their life. As a result, your decision should not be motivated solely by looks. Damp towels are a haven for a variety of bacteria and germs. So, before making a decision, make sure you complete your homework.
Of course, your Royal Towel Rack in Rajkot should complement a modern, newly renovated bathroom. Designs and substances will go better with your bathroom's tiles, paint, and colours. For some reason, homeowners often dismiss towel racks as secondary to other bathroom gear.
How many racks do you need?
The first element to consider when selecting a towel rack for your bathroom is the number and positioning of the towel rack. You don't want to drill a new hole in a freshly painted wall for no reason. Also, take meticulous measurements; alternatively, you may not be able to properly position the towel rack.
Most individuals have two or three towel racks in their bathroom, usually near the sink, shower, or bathtub. If you want to have a constant supply of new, dry towels, you should group a couple of them.
Aside from comfort, you should think about their practical benefits. People who have a bathtub, for example, can benefit from having a solid metal royal towel rack in Rajkot to utilise as a balancing aid when getting out of the water. In contrast, if you use a towel hook instead of a rack, you will not have this type of support. Keep in mind, however, that the towel rack should not be used for grabbing or leaning because it may not be able to sustain your weight.
In most cases, quality trumps quantity, therefore most households with limited storage space choose to keep their best towels in use. However, if you do not want to throw away your towel collection, you can rent storage space for a reasonable price. Just make sure they stay intact by carefully packing and storing them - prepping towels for storage is key.